The Pros and Cons of Implant-Supported Dentures: A Detailed Comparison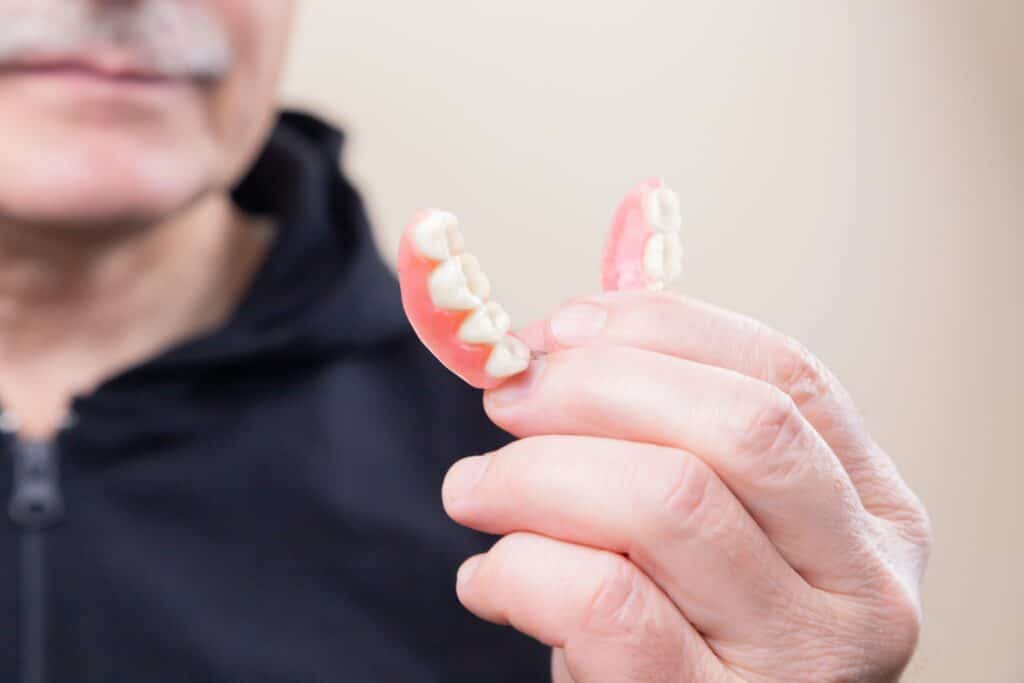 Are you looking to replace missing teeth? You've come to the right place! Today we're discussing one of the most popular options for replacing missing teeth: implant-supported dentures. With their natural look and feel, implant-supported dentures have become popular. However, as with any dental procedure, there are pros and cons. So, let's dive into the details and discover whether our implant-supported dentures in Kaysville, Utah, are for you! 
What are Implant-Supported Dentures?
Are you tired of struggling with loose or uncomfortable dentures? Look no further than implant-supported dentures! This revolutionary dental procedure is a game changer for those seeking a comfortable and stable solution to traditional dentures. So, what are implant-supported dentures? Simply put, they are dentures anchored in place by dental implants. These implants are surgically placed into your jawbone and fuse with the bone over time to provide a secure foundation for your dentures. 
You can enjoy the freedom to eat, speak, and smile confidently with implant-supported dentures. Say goodbye to the hassle and discomfort of traditional dentures, and hello to a new, improved smile!
Pros of Implant-Supported Dentures:
You'll be happy to know that implant-supported dentures have a long history of notable benefits and advantages! Here are a few to get you started: 
Stability and Comfort:

Implant-supported dentures are secured in place by dental implants, which act as artificial tooth roots. This extra foundation means they're more stable than traditional dentures and won't shift or slip out of place when you talk, eat, or smile. They're usually more comfortable, as they don't pressure your gums.

Improved Oral Health:

Dental implants also help maintain your jawbone structure, which can deteriorate when teeth are missing. This benefit prevents further tooth loss and helps keep your remaining teeth in place.

Natural-Looking Appearance:

We design implant-supported dentures to look and feel like your natural teeth so that you can smile confidently without worrying about anyone noticing your dentures. Instead, they'll see a gleaming, glowing, and beautiful smile!

Longevity:

Implant-supported dentures can last up to 20 years with proper care, which is longer than traditional dentures.
Cons of Implant-Supported Dentures:
As with any dental procedure, there are some cons. While some of these may not apply to you, they're worth a read anyway! 
Cost:

Implant-supported dentures are typically more expensive than traditional dentures, as they require dental implant surgery and multiple dental appointments. However, the cost can be worth it for the benefits they provide.

Surgery and Recovery:

Dental implant surgery is a minor surgical procedure requiring local anesthesia and sedation, which may cause discomfort and require a short recovery period. Not everyone qualifies for dental implants; they need adequate jawbone density and good oral health.

Maintenance:

While implant-supported dentures are easier to care for than traditional ones, they still require daily cleaning and regular dental checkups to ensure longevity and performance.

Timeframe:

Getting implant-supported dentures can take several months, as dental implants need time to fuse with your jawbone before the dentures can be attached. This lengthy timeline can be a drawback for those who want a faster solution.
Kaysville
Implant-Supported Denture
So, there you have it, folks! The ultimate breakdown of the pros and cons of implant-supported dentures. Remember, every patient's situation is unique, and what works best for one may not work well for another. Ultimately, the decision to go with implant-supported dentures is a personal one, and it's crucial to weigh all the factors and consult with Dr. Eric Nelson. You can enjoy a beautiful, functional smile that lasts years with the proper care and maintenance. And with your newfound confidence, you might even smile a little more often!
Schedule an appointment today and secure your spot in line for a more sparkling, stunning smile!
Monday                8AM – 6PM
Tuesday               9AM – 5PM
Wednesday          8AM – 2PM
Thursday              9AM – 5PM
Friday                   Closed
Saturday              Closed
Whatever "it" is, we want to hear it. Whether you need more information on our services, want us to reach out to your community, or just have a killer oral hygiene tip to share, this is the place to let your voice be heard.